Multi award winning television personality, entrepreneur and businessman, Mike Walsh today heads an expanding and successful entertainment business.
A household name across Australia for over 25 years, he is the only entertainer to receive the gold "Sammy" and gold "Logie" awards in one year. His highly successful and enduring "Mike Walsh Show", ran from 1973 to 1985 and was watched by more than five million viewers per week on 130 stations nationally on both the Ten and Nine Networks. During this time his team notched up a total of 24 "Logies" and seven "Sammys".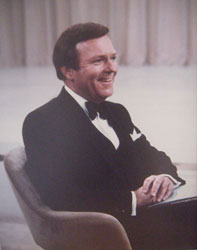 In 1980 "The Mike Walsh Show" was awarded the prestigious Television Society's award for Best Light Entertainment Series, and Mike received their award for Best Current Affairs Interviewer. In the same year he received an O.B.E. for his services to the performing arts and his television show was again singled out for recognition, this time by the United Nations, when it was awarded the "Media Peace Prize" for a special series of programmes which looked at the problems immigrants faced as settlers in Australia.
During "The Mike Walsh Show" years on Networks Ten and Nine, Mike fulfilled a lifelong ambition and developed a diverse range of show business interests. He formed The Hayden Group of Companies.
Hayden Attractions entrepreneured a number of successful theatrical attractions and, in association with Malcolm C. Cooke, presented Barry Humphries' "Isn't It Pathetic at His Age", "The Kingfisher" with Googie Withers, John McCallum and Frank Thring, the original production of Robyn Archer's "A Star Is Torn", and the Broadway musical, "The Best Little Whorehouse in Texas".
In 1983, in association with American film maker Francis Ford Coppola, he mounted the concert version of Abel Gance's film epic "Napoleon".
While cinema attendances nose-dived in the face of competitions from videos, in 1976 Mike bought The Regent Theatre in Richmond, N.S.W., which he restored to its former splendor. He believed cinema would experience a revival and went on to build the Hayden Cinema Centre in Penrith, and bought and renovated the Hayden Cinema at Avalon, on Sydney's Northern Peninsula. Audiences began to return to the cinema and, on the tide of this renewed popularity, in December 1986 Mike bought the historic Cremorne Orpheum, initially spent $2.5 million on the restoration of the main auditorium, and also bought the Collaroy Classic on Sydney's Northern Beaches, making Hayden Theatres the then largest independent circuit in New South Wales, with ten screens. Collaroy, Richmond, Avalon and the two Penrith Centres have now been sold. The Hayden Orpheum now houses six cinemas, all in the Art Deco style of the original cinema.
Born in Corowa, New South Wales, Mike spent his secondary school years at Xavier College in Melbourne, graduating to study Pharmacy and Arts at Melbourne University. It was here his interest in show business was kindled when he became heavily involved in university revues, with Germaine Greer and other contemporaries.
His first foray as a radio announcer was with Radio 3SR in Shepparton, Victoria. From there he went to 3XY in Melbourne to become the station's first Disc Jockey.
In 1962 Mike was invited by Sydney's 2SM to help form the legendary Good Guys, and his 7.00 to 10.00 p.m. time slot gained the highest ratings on Australian night time radio since the halcyon days of the late Jack Davey. While at 2SM he won his first television job, compering "10 On The Town", a national variety programme for the 0/10 Network, which was followed by a satirical variety show, "66 And All That". Mike maintained his radio programme with 2SM, introducing talkback radio to Australia, an innovation that tripled the station's rating within three months.